| | |
| --- | --- |
| Posted by Kelly on March 26, 2012 at 11:55 PM | comments (6) |
When I'm deciding on what makeup to buy, I'm not too crazy about foundation and powder. But I can't get enough eye shadow!
I love to play around with my makeup and use bright and bold colors. I used to get loads of compliments on my eye makeup, but I haven't had time to put much effort into it lately. But that's about to change! 
I have several favorite brands, but the one I use most is Maybelline. I really love their Eye Studio line, especially the Sapphire Siren Quad. The colors are bright and the shimmer effect is nice; There are teeny tiny glitter pieces in the black part. It's silky and smooth when applying and creates an irredescent glow without being too dramatic. (Shown below on left) The only thing I don't like about this eye shadow is if you blend too much, the colors can become muddy and I do a lot of blending. But it still looks nice even after smudging. 
Rating: 
 4 out of 5
Although I like to wear the bright blues occasionally, my all time favorite is the Amethyst Smokes Quad, from the Expert Wear line (Shown above on right). I hope they never stop making it, because I have been wearing it pretty much every day for the past 2 years and I have gotten so many compliments.
 It blends perfectly, it's the best consistency, shimmery and I just love this one.
Rating: 
 5 out of 5 
I'm glad I started looking at coupons.com again, because look what I found! 
Click the picture below to go to coupons.com and find this awesome coupon.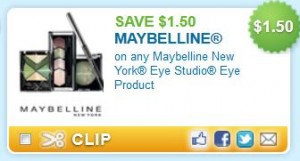 If you don't see it, try zip code 42141.
Should I have a Maybelline makeup giveaway? If yes, what item? Comment below if you are interested and I might do it!